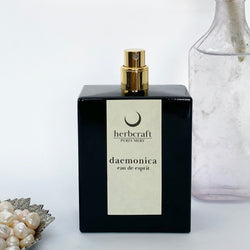 Daemonica
100 ml - Eau de Esprit
A dark spirit of sweet musk and resin, leathery rose and vanilla, Daemonica weaves a delicious spell through the air like smoke, enchanting the unwary.
Daemonica's origin is hidden dreams and secret desires, and her power lies in unravelling the energetic and spiritual inhibitions and constraints placed upon us by outside forces, unhealthy thought patterns and fear. Like all narcotic beings, her secrets are of a dual nature: Daemonica's magic also enthralls and bewitches the unwary.
To be used in work involving manifestation, desires, love, passion, liberation and embodiment.
Enchant* wrists, neck, hair, hands, candles, charms, tools, bedclothes, bedding, jewelry.
In offering, Daemonica belongs to Venus, Belladonna, Rose, Jasmine and Narcissus.
Notes
bitter orange, ruby grapefruit, pink pepper, Namibian myrrh, geranium, jasmine, narcissus, rose, almond, cinnamon, tobacco, cypriol, oud+, leather, styrax, civet+, vanilla+, musk+
*Daemonica contains real jasmine, narcissus and rose absolutes. May color fabric.
+synthetic reconstitution of an endangered species or animal ingredient
Photo & Styling by Napaquetzalli & Antheus Design.