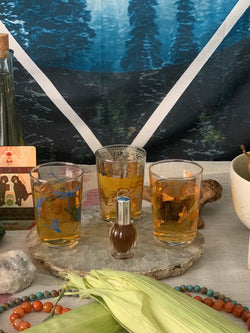 Transformational Ritual Set
Work one on one with our Alchemist to identify what it is you truly desire to bring into your life. If you are in the process of becoming more powerfully rooted in your creativity and sense of self, stepping into speaking your truth from a place of sovereign power, and receiving all of the abundance that desires to flow into your life come and participate in this co-creative process and receive a personalized ritual kit to support your transformation.
The Scented Sacred Cycle is a personalized three month journey symbolized by the seasons. During this time we experience the planting, growth, and expansion of intention and the harvest of transformation. Through the process of ritual, reflection, and immersion in the sensual world of botanical scent we receive the healing and spiritual support we need most at this specific stage of our lives.
As part of your journey you will receive a personal perfume, ritual bath salt, and a sacred object.