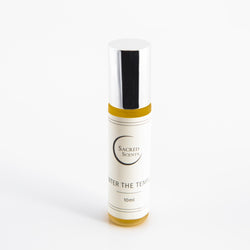 Enter the Temple
Intention Oil: 10ml
Ingredients: Organic Jojoba Oil, Melissa, Lime, Clary Sage, Sandalwood, Basil, Angelica Root, Love
Directions: This fresh citrusy scent has a little sparkle of spice awakening and expanding your awareness as you begin your practice. Enter the Temple is to be applied to the pulse points on the wrists and neck during your personal practice. Set intention and inhale deeply.
Description: A fresh herbaceous lemony shimmer with a little spark of spice and warmth. Lime shines a light into our shadows, making visible what is hidden, while Angelica Root compassionately supports the removal of any falsehoods we carry. Melissa draws one into prayerful meditation so that we may be present in the divine energy that Sandalwood draws around us. Basil supports the harmonization and integration of the physical and the spiritual in combination with Clary Sage as it promotes tranquility and balance.
Notice: Do not use if you are pregnant. Please do not use on your pets. None of these statements are supported by the FDA.