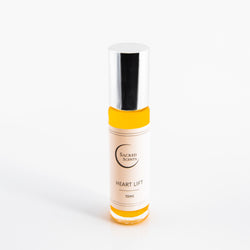 Heart Lift
SOLD OUT
Intention oil: 10ml
Ingredients: Organic Jojoba Oil, Clary Sage, Rose, Sweet Orange, Geranium, Cardamom, Lavender, Benzoin, Love 
Directions: A citrusy floral with a hint of spice, Heart Lift is to be used as an intention oil by applying to the pulse points on the wrists and neck when you are feeling overwhelmed or contracted and are in need of a little expansion. Set intention and inhale deeply.
Description: Clary sage encourages heartfelt contentment, facilitating the understanding that the majority of our challenges are created in our minds. Benzoin warms and opens our hearts to receive Rose's Universal Love and Lavender's nurturing and steady support. Cardamom assists in expanding our hearts, while Geranium encourages the transformation of our challenges into love. Orange welcomes joy and energy into our hearts as we release our challenges and open our hearts.
Notice: Do not use if you are pregnant. None of these statements are supported by the FDA.