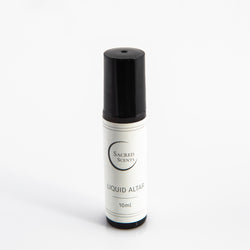 Liquid Altar
SOLD OUT
Intention Oil: 10ml
Ingredients: Organic Jojoba Oil, Sandalwood, Frankincense, Myrrh, Rose, Lavender, Blue Lotus, Love
Directions: This warm woody floral is to be used as an intention oil by applying to the pulse points on the wrists and neck whether you are entering a practice or just want a little peace this scent will bring the sacred into any space. Set intention and inhale deeply.
Description: Liquid Altar facilitates moving deeply within the self while connecting with Universal Energies, creating a holistic spiritual space through scent. Sandalwood creates a sacred container for your practice, Frankincense brings you into your body, and Myrrh connects you with your soul. Rose and Lavender shower you with love and compassion, providing emotional and spiritual nourishment. Blue Lotus encourages your connection to the divine within.
Notice: Do not use if you are pregnant. None of these statements are supported by the FDA.