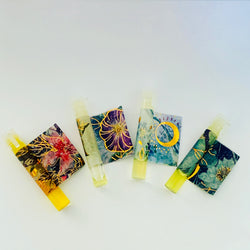 Perfume Oil Samples
SOLD OUT
Sample Size: 1ml
Liquid Altar: This warm woody floral facilitates moving deeply within the self while connecting with Universal Energies, creating a holistic spiritual space through scent.
Heart Lift: A citrusy floral with a hint of spice Heart Lift encourages us to open our hearts and release our challenges.
Drop In: An earthy balsamic base support uplifting citrus as notes of camphor bring you into your breath. Herbal and awakening.
Enter the Temple: A fresh herbaceous lemony shimmer with a little sparkle of spice and warmth. Enter the Temple promotes balance and tranquility.