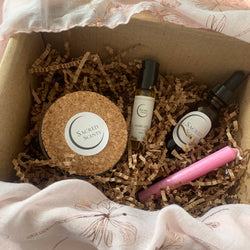 Self-Love Ritual Kit
SOLD OUT 
We can all use a little extra tender love and care. Immerse yourself in this luxurious combination of bath, perfume, and anointing oil. Allow yourself to be swathed in the loving arms of these powerful and tenderly supportive scents. When your heart needs a little warmth and you want to love up on that beautiful body that carries you through the world, take some time and indulge with the Self-Love Ritual Kit. Or share unconditional love and support through the gift scent!
Included in the kit
Heart Lift Intention Perfume 10 ml
A citrusy rose with a little spice to connect more deeply with the heart and expand our ability to give and receive love
Bliss Bath Ritual Bath Salts 4 oz
A sensual mix of jasmine, ylang ylang, and rose to explore the beautiful gift we have received in the form of our body
Magic to Make Anointing Oil 30ml
Anointing oil for the hands when doing the work of more deeply connecting to the unconditional love that we carry within for ourselves and others.
Pink Intention Candle
When you have chosen an overarching intention for your self-love exploration use this candle to create single pointed focus.
A guided ritual for each offering
Inside each box you will find a set of written rituals specific to the plants in the offerings.